Ask Anne…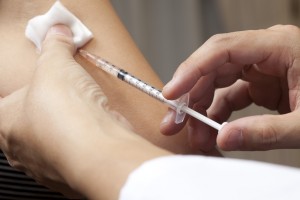 Question: I'm nursing my three month old. I usually get a flu shot every year, but I'm wondering – is it  safe for breastfeeding mothers to get a flu shot?
Answer: It's safe for nursing moms to get the flu shot, or any other vaccine.
The CDC (US Center for Disease Control) says "Influenza vaccine does not affect the safety of mothers who are breastfeeding or their infants. Breastfeeding does not adversely affect the immune response and is not a contraindication for vaccination".
When you breastfeed, you pass many antibodies to your baby, but not enough to completely protect him from all  illnesses, so you can't substitute breastfeeding for immunizations. The American Academy of Pediatrics recommends that breastfed babies follow the recommended vaccine schedule.
There are currently two forms of the flu vaccine: A nasal spray which is made from a live virus, and the regular vaccine (flu shot) which is an inactivated (killed) vaccine. Live vaccines do multiply within the mother's body, but very little, if any, are excreted in human milk. When breastfed babies are vaccinated, they will have higher levels of antibodies when compared to formula fed babies.
The CDC indicates that either form of the vaccine is safe for a breastfeeding mother, but If you're allergic to eggs, check with your doctor before getting a flu vaccine.
The (AAP) American Academy of Pediatrics's policy statement on breastfeeding states: "Research indicates that nursing your baby during a minor painful procedure (immunization, blood draw, etc.) is a safe and effective method of pain relief."
When you nurse your baby during a minor painful procedure, like heel-sticks or immunizations , he will experience less pain. Yet another benefit of breastfeeding!
Anne, IBCLC
Breastfeeding Basics