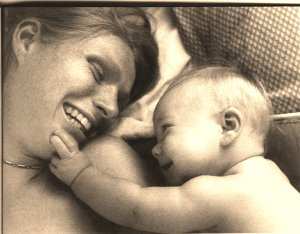 Many new mothers wonder how long they should breastfeed their baby. While the American Academy of Pediatrics recommends nursing for at least the first year of life, this may not be a realistic goal for all mothers. It is important to know that even if you only nurse your baby for a few weeks or even a few days, you will both receive many important benefits from the nursing relationship. Remember that you can always quit nursing at any time, but only if you give it a chance and see how things go.
Here is some information which may help you decide how long to nurse your baby:
If you nurse your baby for a few days after birth:
If you nurse your baby for 4-6 weeks:
If you nurse for 3-6 months:
If you nurse for 6 months:
If you nurse for 9 months:
If f you nurse for a year or more, as recommended by the American Academy of Pediatrics: 
Whether you nurse your baby for days, weeks, months, or years, you will both benefit. Some mothers are hesitant to begin breastfeeding if they know they won't nurse for long, or are uncertain about whether it will hurt, or tie them down, or whether they will be able to produce enough milk. It's always worth giving breastfeeding a try. Even if it doesn't work out, you can always stop nursing at any point. Many mothers start out with the intention of only nursing for a short time, and then find that they keep going much longer than they ever thought they would. Take it one day at a time, and remember than even one feeding at the breast provides important benefits to both you and your baby.
Anne Smith, IBCLC
Breastfeeding Basics
(Edited September, 2013)
* Please 'Pay it Forward'*
If you found this article helpful, please consider making a small donation to my favorite cause – Project Pets: Spay, Neuter, Love - an all volunteer, non-profit organization that provides free spay and neuter services for homeless rescue dogs and cats…because every baby deserves a home, whether they have two legs or four! Visit Project Pets on Facebook to find out how you can help create a happy ending for a furbaby.