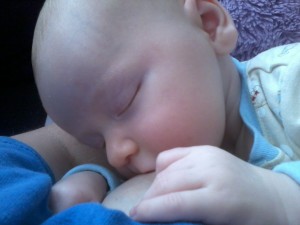 Before I began breastfeeding, I heard about babies biting their mother's nipples. I found this to be quite disturbing. I had no idea how to handle it but figured it would be something that would end our breastfeeding relationship. However, after an induced labor and episiotomy I no longer seriously feared that sort of pain. And after a difficult time getting started with breastfeeding I knew nothing would stop me from breastfeeding, not even bleeding nipples.
Around 3 months Jack started to do the gummy tug-o-war with my nipple. I related this to teething and his desire to bite and move his mouth. Since he had no teeth it didn't seriously hurt and certainly didn't draw any blood. Jack didn't get any teeth until about 11 months. Then one day he bit me. 2 teeth on the top and 2 teeth on the bottom. Bit me. It hurt. He didn't draw blood, but I was scared. I looked down at him with his teeth clenched around my nipple. Oh, man, the power. I was at his mercy. It reminded me of the time at my old job with aggressive teenagers when a girl bit another girl's girls nipple off. Yes, off. Clean off her body. They couldn't find it. There was some rumor that it fell down the vent in the girls' room, but who knows. That incident from 3 years ago was all I could think about. I yelled "ouch!" He let go and started to cry. I comforted him and made sure not to make him feel rejected. I had some feeling that he didn't mean to be doing what he was doing. He latched on again and bit me again. I yelled "ouch!" again and he let go and began to cry.
I picked him up and carried him into the other room where my husband was. I said, "He bit me." My husband said, "Yeah, I heard. It sounds like no one is happy about this." That statement forever changed me. My husband has always had this talent of being able to see things from Jack's perspective. Even better than I ever could. It hadn't occurred to me that Jack was actually terrified about what he was doing. I was so wrapped up in the "oh my god, here we are, in the biting phase that I have heard so much about." I didn't stop to think about what was going on for Jack. He didn't want to bite me. He didn't want to hurt me. He was actually very upset that he himself was inflicting pain on me. He is so upset by it that if I don't handle this correctly, if I reject him or lose my shit, I might induce a nursing strike. Jack will go to any length not to hurt me. If he thinks he truly can't help it then he will not even latch at all in an effort to avoid inflicting the pain on me.
I do my best now to calmly say, "Ouch, that hurts Mama," but I continue to nurse him. I am lucky in that he has not done this often and has never drawn blood. I get an overwhelming amount of comments on my Facebook page about Moms being bit by their babies until they bleed. My heart goes out to you! I hope the information in this article by Anne Smith, IBCLC can help you, Teething and Biting. As well as The Badass Breastfeeder's protocol for biting.
Abby Theuring, MSW