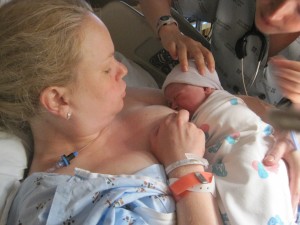 On day 2 of Jack's life the nurse came to assist me with our breastfeeding session as she and others had since his birth the day before. This nurse said "I don't think he is getting anything." A pang of anxiety shot through my chest. I'm not nourishing my own baby? How can my body do this to him? It hadn't occurred to me that he wasn't getting anything. I just assumed that things would work the way the doctors said it would. I didn't feel my "milk come in," but I figured it took a few days. How could it all being going wrong already. I felt so helpless, out of control, guilty and frightened.
I was induced at 41 weeks for no other reason than it was 41 weeks. I was not lactating at the end of my pregnancy. My other pregnant friends said they could express colostrum by squeezing their nipple. I couldn't. I hadn't worried about it until now. Now that I was holding my baby, yes, this is for real! Jack wasn't ready to be born. I truly believe that I should not have been induced. I believe he would have come when he was ready and I would likely have been producing colostrum for him had I waited for nature to do her thing. If I knew then what I know now I would not have been so cocky as to interfere with her plan.
The nurse said that I should give a little bit of formula. I had read enough about breastfeeding to say "no." She pushed me. She brought the doctor in who pushed as well. They told me he was hungry, that he couldn't pee and that we couldn't leave until he peed. I was pushed at my most vulnerable time and I went along with their plan. It felt wrong, but they told me he was hungry. I couldn't let him go hungry! They promised me that he would come back to the breast and we could wean off of the formula. I was terrified that this was the beginning of the end of our breastfeeding relationship.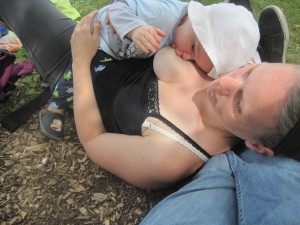 I had strong feelings of anxiety, guilt, anger, despair and confusion at not producing the milk my baby needed. I sat up late surfing the internet for answers on how to make more milk. I learned that the formula I was feeding him was part of the problem. I also learned that we live in a culture where we are taught that our bodies are most valuable for sexual purposes. Women are not taught that they are powerful natural creatures with the ability to grow and sustain another life. I sat up crying many nights. Cried while my baby fussed at my breast. Panicked at the idea of ending our breastfeeding relationship. Hung my head in guilt and shame that I could not feed my baby. I was terribly confused at how something so natural could be so difficult. I persevered with the support from my husband and by reading everything I could find on the subject by reputable resources, such as Anne Smith, IBCLC, Increasing Your Milk Supply. Now 14 months later we are still going strong with our breastfeeding relationship with no end in sight. There is no way in hell that I will interfere with nature's plan for Jack again.
Abby Theuring, MSW