I remember being so excited to finally go to work and tell everyone "I'm pregnant!" We had been trying for a few months and so when it happened it was hard to keep quiet. We wanted to wait until we had heard the heartbeat. This took about 4 months. The day we finally heard it and could come out to the world was the day I became someone new. I wasn't prepared for the amount of unsolicited advice that was about to come my way for the next 9 months. I was even less prepared for how this advice not only didn't stop once my son was born, but actually quadrupled. While pregnant the piece of advice I heard the most was "get the epidural." It went from there to "never sleep with your baby," "supplement with formula," and "get on a schedule."
I don't know who is reading this, but if you don't already know, this is terrible advice. I heard this from countless mothers, but I don't blame them. Every last piece of bad advice I have received up until this moment has come from doctors. And I know this is why women pass along this information. We want to help each other. We trust doctors to tell us the god's honest truth. We are taught that doctors have the final say in our lives—in our children's lives. I remember being a child and being "talked to" by doctors. One time this doctor said to me "turn around and face me." I was sitting sideways in the chair after being poked and prodded by him. He stood in front of me and looked down at me in the chair. He proceeded to lecture me on, well, I don't even remember. He did a terrible job of connecting with me; he talked down to me, literally and figuratively, and he made me feel small. He acted like he was an authority figure over me. This is pretty common. This is how doctors think of themselves and how we have come to see them. Authority figures.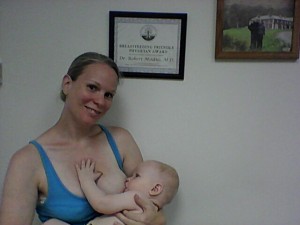 Another time, after my son was born and before we found a wonderful doctor who understands he is a support and a guide not an authority figure, we were at a wellness visit. I had some questions about vaccinations. This doctor grew the dirtiest look on her face and proceeded to tell me in not so many words that I had no right to question her about her advice. I felt so horrible and confused because my instincts were telling me one thing and this horrible person who thought she was king of my son's life was telling me another. If a doctor has ever even one time made you question your instincts and doesn't make you feel like the world's best Mom every visit then I suggest that right this second you stand up and get the hell out of that office and find one that does. They are out there. I promise you.
You are a good mother. Your questions are valid. When you feel something is wrong then it is. When what your doctor is telling you feels like an emotional struggle then it is not right for you. We've been duped. Doctors do not know everything. They are often operating from information that is outdated or biased. They operate from a standpoint of "this is how it has always been done" or "this is what we were taught in medical school." Mamas, it's time for us to take the power back. Mothers have been parenting by instinct since the dawn of time. We have never needed an "authority figure" to tell us what is right for our baby. We know this in our bones, our souls and our spirits. We were born with this knowledge and it is time we tap into that. We are in control of what we decide is best. We have been taught that we need men, doctors, science and education. While these are wonderful things in their own right they are absolutely unnecessary when deciding how to care for our young. If we truly needed this to survive then there would be no other species than ours on the planet. Question the mainstream information coming at you from books, television shows, other mothers and your doctor. Question everything.
I can also tell you with certainty that the majority of doctors are NOT TAUGHT ABOUT BREASTFEEDING IN MEDICAL SCHOOL. This has been revealed by several breastfeeding friendly pediatricians including Dr. Jen 4 Kids. This is real. This is the truth. This should scare the shit out of you. The bad ones will recommend formula. The good ones will refer you to a lactation consultant. The great ones have gone out of their way to learn about breastfeeding for you and these are doctors you should look for. We need doctors. I'm not suggesting we don't, but you deserve one who cares enough to learn about what's best for your baby and treat you like you are king of the world. Because to your baby that is exactly who you are.
Abby Theuring, MSW