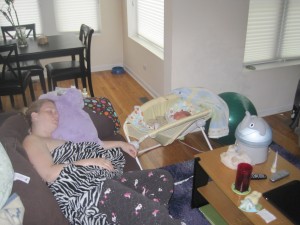 I have not struggled with Postpartum Depression, but I had a difficult first week home with Jack. I have a long history of anxiety and it was something we were all watching for as I hobbled to my feet as a new Mom. The first night was scary. Jack cried a lot (although at that time one peep out of him seemed like hours of uncontrolled crying). My husband and I stayed awake the entire night. I barely remember what we did. I think we were mostly afraid to fall asleep. Afraid of what? I don't know. I think that was the problem for me in that first week. I was afraid of something, but not quite sure what it was.
I was afraid of something happening to Jack. I had intrusive thoughts of him falling down stairs or into the water at the beach. We didn't hang out on the stairs or go to the beach yet so these were irrational thoughts. They only kept me afraid. I imagined him getting crushed by a chair leg. We didn't leave him on the floor, but the ugly thoughts and images rushed to my mind. I look back now and realize I was feeling the weight of responsibility for this new human being. I was faced with the reality that there was no way out of this job. I was in it for life and it required a maturity, level of responsibility and commitment from me that I had never experienced before.
I was afraid of something happening to me. I had intrusive thoughts of me falling down the stairs, getting knocked out and Jack just lying there crying and crying and crying. The thought of that made me sick to my stomach; it made my heart hurt. I was terrified that I would get cancer and die and Jack would not have a mother. My own identity was in question. My very purpose on this earth was changing. Had changed. Changed in an instant.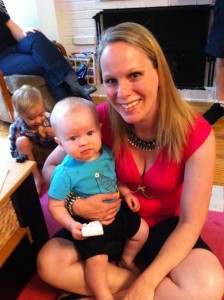 I remember it being very dark. We had the shades closed, kept the house quiet and slept when Jack slept. I wanted to so badly to reach out to my husband to talk to him. I kept it all in. It never felt like a good time to have a breakdown. Jack needed us at every moment and we responded at every moment. About a week or 2 postpartum I was able to tell my husband how I was feeling. It turned out he was having similar feelings. We were able to confirm that these feelings were likely normal in the midst of such changes. We grabbed onto each other and haven't let go yet. Our lives are no longer dark; the sun beams light Jack's face every day. I am no longer consumed by thoughts of terrible things happening (well, mostly). Now I spend most of the time giggling at something that happened yesterday, dreaming about playing in the snow this winter and wishing like hell he would just fall asleep already.
Abby Theuring, MSW