I have always heard about this thing called Nursing Aversion. Since becoming pregnant people have asked me how I deal with it. I usually just say "I suck it up and move on." What I didn't know at the time was that I wasn't really experiencing Nursing Aversion!
The other night, March 6, 2014 starting at approximately 10:30pm, yes, I remember it that clearly. I was nursing Jack to sleep. He had been having trouble falling asleep that night and the night before. We were rocking in the rocking chair as we always do and it was getting really long. I was getting tired and just wanted him to fall asleep. Sounds pretty normal, right? It is around here at least…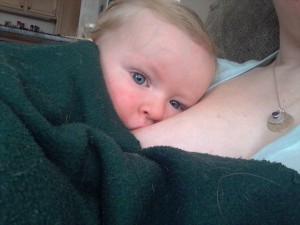 Well, things started to change for me over the next 2 hours in a way they never have. I started to feel more irritated than usual. It wasn't even really at him. Just in general. My nipples started to feel sensitive in a strange new way. It didn't hurt; it wasn't like anything I had ever felt. It made me recoil. I had to pull my nipple out of his mouth. Fast. I was overcome with a physical in my nipple of stinging, prickling and buzzing and a creepy crawly feeling all over my body; an emotional feeling of disgust mixed with fear mixed with irritation mixed with the heebeegeebees. Mostly the heebeegeebees. It was different from feeling touched-out when my emotions are directed at Jack. This was not.
Jack wanted to nurse. It was going on for a long time now and I just wanted him to fall asleep and knew he wouldn't without my boob. So I kept trying again and again. His loose latch made the feeling even more intense. I was overcome with this desire to push him away and pull up my shirt. I said "nurse or don't! Not this in between thing!" He obviously didn't understand and said "I need boobie!"
I started wishing for pain. Breastfeeding was so painful when I first got pregnant. I was longing for that type of pain to stomp out this feeling. I became so emotionally agitated by this foreign feeling that I started wishing to hammer my nipple or that Jack would bite me really hard or that I could smash my head through the window. I even started to pinch the side of breast as he nursed hoping that the pain would overpower the weird sensation and emotional state that I was in. Nothing helped.
I remembered trying to be really calm. My agitation was just agitating Jack. I started to talk to him about how I was getting frustrated and that it was hurting my nipple. I asked if we could please take a break. Jack would say "bye bye boobie" and pull up my shirt and just lay his head on my chest. (I suppose the benefit of this happening with a toddler is that you can explain it to them.) But he inevitably started to try to nurse over my shirt and poke at my boob. It just brought me right back into that weird and dark place.
I thought about getting my husband to take over, but I felt like sleep was so close that I wanted to just get there the fastest route possible. Which is boob. I thought about this blog post that I would share with all of you. I thought "oh, wow, this must be that Nursing Aversion I keep hearing about!" This is really much more than just being irritated, touched-out or in pain. I get it now! And it is nearly impossible to explain in words.
Jack is also the master at twiddling the other nipple. Since being pregnant this has been a huge no-no. I just can't deal with it. I simply pull his hand away and say "that hurts mama." He hasn't slowed down one bit with trying to do it, but I just keep repeating the same thing over and over. That night I could sense he was going to do it even before his hand moved. It's like I could read his thoughts. I wanted to crawl into a hole in the Earth or, even better, take a bat to my house and knock it down one swing at a time. I told Jack again that I was frustrated and he said "that makes me sad." I wanted to die all over again!
I try to be pretty rational about things; when wild things are happening to me I try to talk to myself like some snooty professor at an Ivy League college. "I do believe that this is within the realm of normal human experience and perfectly understandable that in this situation one might have these thoughts, feelings or behaviors." It was like some Twilight Zone alternate universe where the emotional side and rational side of me were operating simultaneously. I didn't feel in danger of hurting myself or my child because I was able to be so rational about the thoughts I was having, but I was so overcome by an emotion that I had literally never felt before that I just wanted to run out of the house and down the street and run, just run, for-fucking-ever.
Ok, so I am a pretty dramatic writer and this might sound like a crazy person is writing this, but now that it is daytime and the emotion has passed I know that I could have just walked in to get my husband had I needed to. I see this as just another intense experience in this journey of motherhood that keeps knocking me down, waiting for me to get up, and then knocking me down again. I guess that is just what we do. Keep getting up, keep coming back, keep sharing our stories and leaning on each other. If you have never experienced this, please don't let it scare you. It doesn't happen to everyone and if it does happen you can find support in several places. (linked at the end)
People are already asking "why don't you just wean?" Well, I don't want to. I still feel that the benefits of breastfeeding Jack outweigh this negative experience. If it happened every time I breastfed then I might have a different answer, but it happened just the one time so far and I don't make decisions based on one experience. When I talked to my husband about it he said "your breastfeeding relationship is a 2-way street." He is right. I have to take my own feelings into as much consideration as Jack's. I have had to balance this for 2 ½ years and will continue to do so while keeping my breastfeeding goals in focus. This is what this blog is all about; finding the strength to do what I feel is right despite the criticism of others. Only a mother and baby can know what is best for them.
The biggest impact this experience has had on me is showing me just how primal breastfeeding is. It connects us to all other mammals since the beginning of time and is tied to instincts, reflexes and emotions so deep they can't be explained logically. I am once again in awe of what Jack is teaching me about being human.
Abby Theuring, MSW
Resources:
7 Tips to Help Cope with Nursing Aversion
Nursing Aversion Support Group
Nursing Aversion Tips on Dealing
Creating Boundaries/Positive Weaning