Ok, so maybe I won't actually quit, but I really hate it sometimes. I mean who likes having the unused nipple pinched, scratched, twisted, pulled and mangled? Jack has become obsessed with this other nipple. I wear tight-necked shirts so that it is impossible for him to get in there, but he practically rips my shirt or has a meltdown. I wear necklaces of various types, but he is too smart for this now. He knows this is just a ploy to distract him and he ignores the necklaces all together. I try to hand him toys to hold and he pushes them away to begin his expedition into my shirt.
Breastfeeding is the thing I will always be the most proud of in life. We fought tooth and nail to get here. We overcame obstacles. We persevered. Blah, blah, blah. My neck hurts! I lie on my side all night so that he can nurse on demand. But nowadays he only wants the top boob; whichever one that is at the time. So I have to lean my body over and then toss my head and limbs in the opposite direction to maintain balance. I wake up with a stiff neck, sore hips and a bad attitude.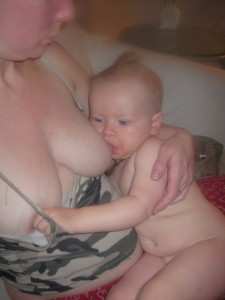 On top of all of this Jack has been nursing like a newborn lately. He is on my boob every 20 minutes! I tried to walk to the drug store and back the other day. It is 2 blocks away. He couldn't make it. I NIP freely, but that's not the point. I just wanted to run an errand and go home! He latches on and then the digging begins. The exploration through the scarf and shirt to find the other nipple. That hidden nipple that he must have right here right now!
Well, it felt good to get that out while I lie here nursing my boobie baby to sleep.
Abby Theuring, MSW