Breastfeeding did not come easy to me and I read pretty much everything there is to read on the subject by the time Jack was 2 months old. An entire world opened up to me while frantically researching how to wean a baby from formula. We were bamboozled like so many families into the formula trap. I think of our battle to bust the formula habit as the most powerful thing I have ever done. When we had accomplished that and were officially exclusively breastfeeding I wanted to preserve that breastfeeding relationship as much as I could. Even to this day I protect it with my entire might. It is truly the most valuable thing I provide my son.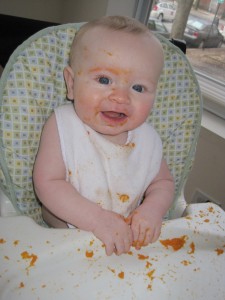 We were excited to start solids. It sounded fun to me to make food and feed him with a spoon. This is, after all, what you see most mothers doing on TV with their babies. We had the bibs, a high chair, food masher, bowls and utensils all ready to go. My husband and I, who usually ate dinner in front of the TV, were determined to eat at the dining room table every night. This would give us some real solid family time together. As excited as I was to start to solids I took the recommendations to wait 6 months seriously. (Read about the benefits of delaying solids Starting Solids: Waiting Is Worth It). I knew this was the best thing for Jack's developing body. I did not mistake his curiosity for food with hunger. I learned about Baby Led Weaning or Baby Led Solids and felt this was a good fit for our family. I believe strongly in allowing Jack to lead the way and this provided sensible guidelines for maintaining a primarily breastfeeding relationship for several years while allowing Jack to explore his new world of solid foods.
We sat at the dinner table and started with sweet potatoes. For about a month he mostly played with it. He threw it around the room and made art work on the high chair tray. It wasn't long before he became fussy in the high chair. He only lasted a few minutes before he wanted to get out. This makes perfect sense from a developmental perspective. His instincts were telling him to move yet we had him strapped into a chair. He was not being naughty or inconvenient. He was being a baby; a beautiful growing baby with a passionate zest for life. I felt it was my job to change my thinking about what was right for him. He didn't need family time at the table. He needed support and acceptance from his family with all the new adventures his body was telling him to embark on.
Mealtime for us now is me and my husband sitting on the floor in front of the coffee table. I put pieces of food on the table for Jack and he eats as he moves around. He eats whatever we are eating in the same form we are eating it. He generally circles the table picking up bits of food as he goes by and shoving them into his mouth. Sometimes he spits it back out or hurls it at the wall. I don't mind. Things can be cleaned and picked up. There is nothing more entertaining than watching him run into the kitchen do a little squat and jump and then come running back for another bite of food only to run off in another direction.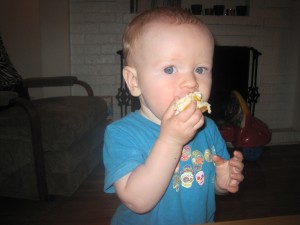 The bibs, high chair, food masher, bowls and utensils sit unused like so many other baby items that we thought we would use. There is nothing about being a parent that has gone the way I thought it would from breastfeeding to solid foods to sleeping and beyond. Every step of the way has been a lesson in my own ability to change my thinking to provide Jack with what I truly believe in my heart to be the best thing for him. It felt wrong to give a small baby solid food when they could be getting my nutrient-dense breastmilk. It felt wrong to have him strapped into that high chair when he just wanted to run free. It is through his jumps, skips, hops and giggles that I know from the depths of my soul that these decisions were the right ones for us.
Abby Theuring, MSW