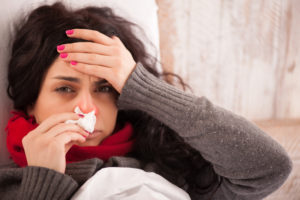 When you are sick, you and your baby will almost always benefit from continuing to breastfeed. There are very few illnesses that require a mother to stop nursing.
Since most illnesses are caused by viruses that are most contagious before you even realize you are sick, your baby has already been exposed before you even develop symptoms (such as fever, diarrhea, vomiting, rash, runny nose, cough, etc). Continuing to breastfeed will help protect your little one, because your body produces antibodies to the specific bug that is causing the infection, and you pass them on to the baby in your breast milk. Often, a breastfed baby will be the only member of the family who doesn't get sick. If he does get sick, he will usually have a much milder case than the older members of the family. Illnesses are most often transmitted through skin contact and secretions from the mouth and nose. Be sure to wash your hands often, and try to avoid face-to-face contact, and sneezing near the baby.
Breastfeeding  your baby while you are sick makes it easier for you to rest. Tuck him into bed with you to nurse, then have someone take him away when you're done. I remember being so sick that my older kids would bring the baby in to nurse every couple of hours, and I was so out of it that I didn't even know when she nursed.
Weaning abruptly is never a good idea, especially when you are sick. You put yourself at risk for engorgement and mastitis, as well as the emotional distress of sudden weaning for both you and the baby.
You need to make sure that you get plenty of fluids when you're sick, because you don't want to become dehydrated. Your milk supply may decrease during and immediately after your illness, but it will quickly build back up when you feel better.
Every year, over 4.3 million women in the U.S. have babies. Nearly all of these moms will use at least one drug while they are pregnant or nursing, and they are just fine. You must always consider the risk/benefit ratio when making decisions regarding whether or  not to take a medication while pregnant or lactating, weighing the very unlikely (for the vast majority of drugs) risk of the medication versus the very real benefits that breast milk provides for your baby.
Here is some general information about OTC (over the counter) drugs and breastfeeding – remember, though, that drug manufacturers often change their active ingredients, so always read the label carefully and/or consult your  doctor before taking any drug when you are nursing. The article Drugs and Breastfeeding has more information to share with your  health care provider.
Dextromethorphan is an antitussive/cough preparation that seems to work by elevating the cough threshold in the brain. It's the main ingredient in Benylin and Robitussin DM. It's considered to be the safest of the antitussives, and the one least likely to transfer into milk. As with other cold meds, watch your baby for drowsiness.
Let's discuss specific illnesses now. First, the scariest one of all – cancer. Cancer causes malignant blood cells to multiply rapidly and out of control. If detected early and treated promptly, many types of cancer can be cured completely. When cancer is suspected, there are several types of diagnostic tests that may be used; some affect breastfeeding more than others.
Early detection is the key. Remember to do your monthly breast exam, and have regular mammograms as recommended by your health care provider.
X-rays: human milk is not affected by diagnostic x-rays, and you can safely nurse immediately afterward.
Other illnesses in the mother include:
Keep in mind that all of the OTC medications approved for use in nursing mothers are very safe, and in nearly all cases, the risk of side effects on your baby is extremely small. Due to concerns about liability, many health care providers (HCPs) are going to err on the side of caution, just in case. This doesn't mean that taking a decongestant or an antacid or a cough drop is dangerous.
You know those package inserts that come with every single drug? They are going to list every possible side effect known to man, even if the chances of anyone actually experiencing these are one in a million. They are even more cautious when telling nursing pregnant or nursing moms a medication is safe, even if there has never been a single case of a baby being affected by the drug. The lack of controlled studies (very hard to do with pregnant or nursing mothers) alone is enough to make HCPs say that a drug isn't safe, even if nursing moms have been taking it for decades with no problems. They do this for two reasons: one, of course, is to make sure that you observe your baby in case he does experience side effects, as unlikely as that is; and two, because they don't want to get sued.
I have an opinion about which of these two reasons HCPs give the most weight in making their recommendations, but I will keep that to myself. I will say that all the drugs on this list that are considered safe really are. HCPs are going to make sure of that before they give any kind of approval, so if you need to take any of these medications, do it. You don't have to be a martyr. You are not going to hurt your baby. If you'll notice, the most common side effects to be on the lookout for in your baby are drowsiness or sedation. I don't know about you, but when I was a nursing mom and I got sick enough to even consider taking a medication, having a baby who was a little sleepier than usual for a short time was not necessarily a bad thing.
It's almost always possible for a mother to continue nursing, even in the rare cases where temporary weaning is necessary. Remember all the advantages of human milk and how important breastfeeding is to you and your baby, and try to find a supportive health care provider who believes that nursing is as important as you do.
One helpful resource for nursing moms and their HCPs is Dr. Thomas Hale's new InfantRisk Center. The InfantRisk Center provides up-to-date evidence-based information on the use of medications during pregnancy and breastfeeding. You can call them Monday-Friday 8am-5pm central time at (806)-352-2519, or visit their website at infantrisk.com.
The Infant Risk Center recently released an iPhone/Android app with info on med safety of pregnant & breastfeeding moms, available to HCPs for a yearly fee. There is also a consumer version of the app called MommyMeds.  Find out more at their website: http://www.infantrisk.com/
Another resource is the free Apple LactMed App for iPhone/iPod Touch. You can use it to find information about maternal and infant drug levels, possible effects on lactation and on breastfed infants, and alternative drugs to consider. You can find out more at http://toxnet.nlm.nih.gov/help/lactmedapp.htm
The information in this article came from the AAP Policy Statement, The Transfer of Drugs and Other Chemicals Into Human Milk, revised September 2001, and Dr. Thomas Hale's book Medications and Mothers' Milk, 15th Edition, 2012
(Edited September, 2017)
Anne Smith, IBCLC