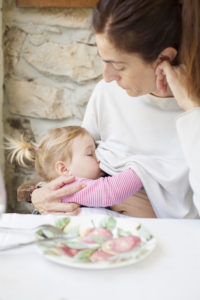 Breastfeed a baby and you'll get stares because you're doing it in public, but most people will think it's a normal way to feed your baby. (Except for those crazy "Ew, breastfeeding is gross!" people.)
Breastfeed a toddler in public, and you'll get everything from looks of horror and revulsion to comments about it not being "right" to people even calling you a pedophile for feeding your child.
I don't get it — and I used to be one of those people. No, not the "breastfeeding is gross" or "you're a pedophile" type of people. But definitely one of those who felt uncomfortable at the sight of an older child breastfeeding and who thought it was "weird."
I had a total about-face when I had a baby.
I didn't plan to still be breastfeeding my nearly 2-and-a-half-year-old. In fact, I wasn't sure if I would make it more than six months. The reason I'm still breastfeeding is that it just feels right. For every time I've felt completely fed up with breastfeeding (which happens about every other week), and for every time I've sworn that I was going to wean, I just couldn't bring myself to make her stop. It felt wrong. It didn't feel like the right thing to make her stop doing something that seemed so natural to her and that brought her so much comfort.
Breastfeeding a toddler isn't like breastfeeding a baby. There are no round-the-clock feedings. Now, she only nurses to go to sleep, and that's usually about 10 to 15 minutes. Sometimes she asks when she's overly tired during the day or when she wakes up in the night. Mostly, she's more concerned with bouncing from place to place, discovering new things and telling me all about them as she goes. She wants to sing and dance more than she wants to cuddle and nurse. She wants to swing and ride in her wagon more than she wants to slow down long enough to sit in my lap and breastfeed.
Now that she's a toddler, she can also tell me what she needs. I don't have to interpret her cries or offer her as much comforting because she's so upset about not being able to express herself. Sometimes, what she needs to express is that she needs to nurse. I don't tell her that it's "for babies" or that she's a "big girl" and doesn't need it. Wanting to nurse isn't like wanting candy. It's healthy and nutritious for her, and it comforts her in ways that a cuddle sometimes can't. There's no reason for me to deny her.
I never thought I'd be breastfeeding a toddler, but now that I am, it feels like exactly the right thing to do.