I have never had a negative NIP experience. I have never even gotten a funny look. I figure it's because I live in a big city where we are confronted with so many people doing various strange things on a daily basis. But today I went to the Post Office, the Post Office in the big city of Chicago, and had a very odd experience.
I walked a few blocks to the local Post Office branch with Jack in tow in the Ergo. The purpose for the journey was to get a PO Box for the small business I have started. You know the one… The Badass Breastfeeder. When I arrived I handed my application over and answered a series of questions from a man behind the counter. Jack wiggled and whined so I let him out of the Ergo so he could walk around. Once the keys hit the counter Jack was interested in what was going on. I picked him up in my arms. He began to dig at my shirt. Without thinking I swung him into my right arm and pulled my tank top and cardigan sweater down under my breast with my left arm. He latched on as I fumbled to pull my coat over, my scarf up and my sweater down further out his way. It's 25 degrees Fahrenheit here in Chicago; that's -4 degrees Celsius. I was bundled up for our walk so I had quite a bit of clothing to work with.
As I was fumbling around with my clothes I sort of pulled my scarf back over my breast to cover my skin. I had so many layers on that I just did it without thinking. I laughed at myself inside my head as I do not cover when breastfeeding in public. I got back to looking at the man behind the counter and continued to answer his questions and get my PO Box number. Out of the corner of my eye I saw some commotion. I looked over and 2 or 3 female Post Office employees were staring wide-eyed at me. As I noticed their stares they turned around, giggled, whispered to each other and continued to take quick glances at me. They looked shocked. I thought to myself "oh, here we go." This had never happened to me so I had no previous experience to build on, but I am not afraid to NIP. I am not afraid of other people. And most importantly, I am not afraid of confrontation. I stared back at them. I smiled. I acted natural. I kept a look on my face like "I am not doing anything odd or strange." They were acting like teenagers that just caught a glimpse of a penis. I finished up my business and walked around the counter to meet the man at the PO Boxes (the man who had yet to show that he gave a shit about me nursing Jack). As I passed their end of the counter I looked them in the eye. I gave them a sort of sarcastic confused look as if to say "what's the big deal? I don't see any penises flapping around in here so what's all the ruckus?" They lowered their heads and avoided the eye contact. I am not afraid of confrontation, but I also do not believe in starting it. I wanted to give these women the opportunity to say something if they really dared, but I did not want to act crazy and start yelling or something.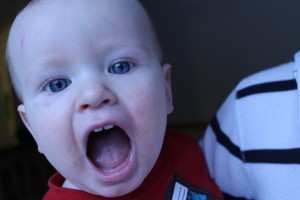 I opened my PO Box-the key works! It's official! The Badass Breastfeeder has an address! I thanked the friendly man and he went back to work. Now there I was. Standing in the Post Office, my business sorted out, but I had this nagging feeling like I was letting these women get away with something. I said to myself "I'm the fucking Badass Breastfeeder. I can't just walk out. It's like I'd be walking out on thousands of breastfeeding Mamas." So I walked back to the counter and put our coats and papers down. I stood right in front of them. I did not want to start the confrontation, but I wanted to give these women every opportunity to start it. I looked at them as I walked behind Jack while he explored the Post Office. One woman said "where's the baby?" I said, as I pointed down, at Jack, "he's right there, exploring." She said, "he's such a calm baby." "Yes, he is," I said. The woman said, "that's why I was looking at you. He's such a calm baby. Most babies are fussy and crying when they come here and he is so calm and peaceful." I knew this woman was full of shit, but she appeared to be trying to make up for her rude staring. I thought about going into a huge rant about how breastfeeding on demand helps babies maintain a sense of safety and security especially when they are in unfamiliar surroundings. That he is so calm and good-natured because I meet his every need whenever and wherever he shall express this need. That babies and toddlers are still very dependent on their mothers for their own emotional regulation, and breastfeeding is an important part of a child's emotional experience. But I didn't. I figured she was doing what she could in the moment to make up for her stares. That she didn't want me to feel uncomfortable and was trying to make things right. The woman she had been standing with earlier returned to the area and looked at us talking. She looked curious about whether they had been "busted." I turned my attention back to Jack satisfied that these women had gotten the point that I am a real person and not a freak show.
At first I felt like this was a negative experience, but now I think it is actually what needs to happen. And you can bet your bottom dollar that this Post Office branch has been signed up for Public Breastfeeding 101 by The Badass Breastfeeder herself. This is now my favorite NIP location. These women were not abusive. They were given every opportunity to be rude if they wanted. They were simply surprised. They likely never see this. They likely have not been exposed to women breastfeeding comfortably and uncovered in public. Breastfeeding a running, talking, squealing toddler no less. In fact, I did my job today. Sure, they could have been more mature about it, but let's take this mission in stride. I normalized breastfeeding for a few women. Maybe next time they will not be so surprised.
***If you or anyone you know would like to have more support nursing in public check out my free course Become a Badass Public Breastfeeder in 7 Days.
Abby Theuring, MSW