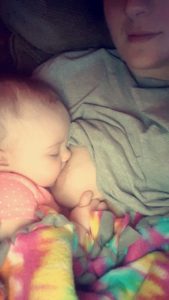 Did you know that the Women, Infant, and Children Nutrition Program (WIC) serves nearly half of all infants born in the US? That's right! HALF of our infant population receives WIC services. If you haven't been a WIC client yourself, you may not know that the program isn't only for infants. WIC serves pregnant and breastfeeding women, infants, and children up to the age of five. Their services include nutrition education, breastfeeding support, and supplemental food packages.
The program was introduced by the USDA in 1972 to address the concern for woman and children living in poverty. Within two years, 45 states were serving clients in the WIC program. Over the next few years, the program adapted practices to help educate mothers about immunizations, drug and alcohol abuse prevention, child abuse counseling, and family planning. Between 1994 and 2003, the USDA worked diligently to implement ways for WIC to promote breastfeeding in the clinic.
WIC helps support and promote breastfeeding in several ways: offering bigger food packages to breastfeeding moms to help meet their nutritional needs, having breast pumps available for moms to rent, and helping refer moms to lactation consultants if they need it.
The most important part of WIC's breastfeeding support was started in 2004, when the Breastfeeding Peer Counselor Initiative was introduced. The program hires women with breastfeeding experience (usually past WIC participants) and trains them to support moms that are learning to breastfeed. That's me! I am Marissa Wilcut, a breastfeeding mom, and a very PROUD breastfeeding peer counselor.
My journey with WIC started when I was 35 weeks pregnant and waddled into my local clinic. The strain of pregnancy was getting more intense every day. I felt physically exhausted and emotionally drained. But I was greeted by the sweetest, smiling faces, and I felt some of that
heaviness become a little lighter. The clerk congratulated me on my pregnancy and made small talk while we discussed my household size and income, then I met with the nutritionist and we discussed my diet and experience since becoming pregnant. She assured me I was doing a great job carrying my baby.
Once I had my food vouchers, I was escorted to small room with pink walls and a comfy recliner. It was there that I met my very first breastfeeding peer counselor (BFPC). We discussed my plans and worries about breastfeeding, I talked about my incredible breastfeeding support
system, and told her that my sister-in-law was my biggest inspiration to breastfeed.
She showed me different breastfeeding techniques and talked about the significance of initiating latch in the first hour after birth. Then she shared her own breastfeeding experience with me. When we were
finished she gave me her personal contact information and told me to never hesitate to reach out if I needed it, so I accepted.
Once I got in my car I felt a shift in my outlook on the end of my pregnancy. Those women were just doing their job, but they didn't realize how much it helped me push through the next few weeks. I left the WIC office that day feeling empowered!
A couple of months after my daughter was born, the Breastfeeding Peer Counselor Position became available at the Reynolds County WIC clinic. Our breastfeeding journey was going very well, so I was anxious to apply. After several weeks of various interviews, I accepted the job! I spent the next few months in trainings that revolved around lactation. I learned everything I needed to know about how to educate pregnant women about breastfeeding and to support breastfeeding mothers.
Since becoming a BFPC, I have seen a wide variety of moms: teenagers, single women, women that were pregnant with their first child, women who thought they were finished having babies, full-time employees, women that stay home, and the list goes on. I have been asked
questions that I knew answers to because of my education, some that I have experienced as a mother, and a few that I don't think anyone could ever know the answer to. But there is one thing that all of these women and situations have had in common: they needed SUPPORT. And I am
happy to do that!
Of all of the issues that I have been confronted with during my time as a BFPC, I see most moms struggle with three issues the most: having a "low supply," breastfeeding around family and in public, and the influence of social media on motherhood and breastfeeding. I will elaborate on my experience and opinions about these topics in future posts. So stay tuned!
When I said I am PROUD to be a BFPC, I meant it. Watching moms who may have otherwise given up on themselves  succeed is powerful. I have met some of the most incredible mothers, and each day I am inspired by their strength and ability to overcome obstacles to breastfeed and raise their babies.
The board in my office reads: "There will be so many times you will feel like you have failed. But in the eyes of your child you are SUPER MOM!"
My only hope is that each mom who enters my office and confides in me, will leave feeling as empowered as I did the first time I visited WIC.
Mothers are super heroes, with the weight of the world on their shoulders, and they should never feel like anything less!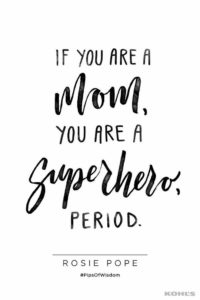 To apply to be a WIC participant, you will need to contact your state or local agency to set up an appointment. Check out your state's website or call the toll-free number. When you call to set up an appointment, someone will tell you the location nearest your home and what you need to bring with you.
Hello all! I am Marissa Wilcut. I live in a small town in Southern Missouri where I work as a breastfeeding peer counselor. I have four beautiful babies, but I've only given birth to and nursed one. We have had great success in our breastfeeding journey! Lactation and the beauty of breastfeeding fascinate me, so it has become a huge part of my life. I love nursing, learning and educating about lactation, and advocating for breastfeeding moms everywhere!