Good lord, Jack cries a lot. When we get up in the morning and make breakfast he cries, when I try to put clothes on so we can go outside he cries, when we come back inside and take a nap he cries, waiting for dinner to cook he cries, when it's time for bed he cries.
Sometimes I feel like smoke is going to come out of my ears and the top of my head is going to pop off like in a Looney Tunes cartoon. I try to practice all of the gentle parenting tricks of the trade. I wear him, I nurse him, I speak gently to him. Then there are times when I put him down, turn on the TV and snap at him. I hate myself on those days. Sometimes it seems every day.
I tell myself I have to stop writing about this, shut down the Facebook page and stop working on this Attachment Parenting mission because I am fraud. I am not gentle. I am terrible and awful and a bad mother. I cry. I cry. I cry.
Sometimes I think Jack deserves better. Like I should get a job and send him to daycare where someone else might give him the love and nurturance that he needs. That I can't give him. That I fail at on a daily basis.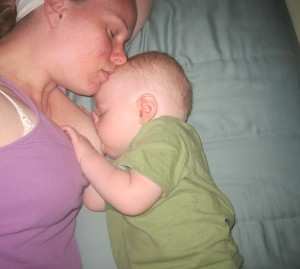 I want to punch windows, drink bottles of wine, scream at the top of my lungs, eat all of the food in the house, flip tables over, throw myself down the stairs. I hate this feeling. Like the most important thing I am doing I suck at. Like I can't escape this now. Like I can't go on. Like I'm depriving my son of the very things I advocate for other mothers to give their children because I know how vital it is.
I snuggle him when he sleeps. He latches on. His face is peaceful. I kiss his head. It's warm. I have to do better. I have to be better. I just have to.
Abby Theuring, MSW