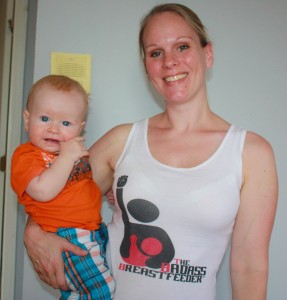 My husband recently told me about an article he read on how Facebook users were found to be more depressed than non-Facebook users. The conclusion was that people on Facebook only post the "good times": the vacations, the smiling photos, the funny status updates. The article explained that this makes people feel alone in their negative experiences because they feel like no one else is going through that. When we only hear the good times or the situations that parallel our cultural values we can feel like we are doing something wrong or—if we're parents—that there is something wrong with our child.
In the short time that I have been a mother I have felt a great deal of anger at people who told me half-truths about what motherhood would be like. I remember countless people telling me "it will get easier." Well, I'm sorry, but it has not gotten easier. I read an article awhile back about why mothers tell each other half the story. It discussed how this makes mothers themselves feel less traumatized by the tough times they went through. Like there is some relief in brushing it off and telling another mother "oh, it's not that bad, it goes by fast, and you'll be fine." That mother is speaking to herself. She is trying to comfort herself after experiencing tough times. She sees another mother going through it and needs to distance herself from those strong feelings and ends up downplaying the information that she has and the support she could give by minimizing the new mother's experiences. This leaves the new mother feeling alone, scared and lost.
I doubt there is any way to ever know if there is truth in this idea, but it was interesting to me. In a culture where we are experiencing increasing distance from our babies and from our emotions it is not difficult to believe that a mother would need to do the same—distance herself from the truly difficult times of being a mother. Another reason this downplaying of difficult times may occur is that in our culture we decide if a mother is a good mother or bad mother by the way her child behaves. So if a baby is not sleeping through the night we think this mother must be doing a bad job as a mother. This may drive a mother to lie to other mothers about what her baby does in order to not be judged as a bad mother. "Oh, yes, my baby has been sleeping through the night since day 1." This leaves the new mother feeling like she is the only one with a baby awake in the middle of the night, and she might feel like something is wrong with her baby. Obviously, there are babies that do sleep through the night from day 1, but maybe other times when we stretch the truth. (God knows I do it at the doctor office!)
After giving this much thought I decided that I would never tell a half truth (to another mother) about what was going on in my house. This leaves me open to ridicule from others, but I feel that the benefits of telling the sometimes ugly truth and helping women not feel alone outweigh the risk of people thinking that I am a bad mother, something that I know isn't true anyway.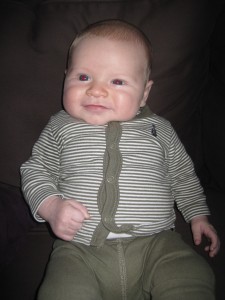 I was constantly told by other mothers that things would get easier at 3 months. When 3 months came around and things were just as, if not more, difficult they told me it gets easier at 6 months. And again, when 6 months came around they told me it would get easier at 9 months. By the time 9 months rolled around I was onto their game and decided to completely stop listening to other people. By this time I had settled into my role as Jack's follower and student. The lies meant nothing to me anymore and I learned that many people were making these statements based on their cry it out schedule, use of formula or early solids, crib sleeping and other forms of parenting that I just wasn't using. I was confident now in my new role as an attached mom and found it much easier to let other people's experiences roll off my back.
At 14 moths postpartum I find nothing to be easier than the first week of Jack's life. Yes, it is very different, but I would not say it is easier. He still does not sleep through the night. Sharing a bed makes it a bit easier, but he has never once stayed asleep for any significant period of time. There is nothing wrong with him; I am not doing something wrong, it's just what most babies do. Do some babies sleep through the night from early on? Maybe, mine didn't, yours might not.
Our days are very chaotic. Sometimes he parties until 3am and is ready to rock and roll again at 9am. Sometimes he sleeps until 11am before he is sitting up and giggling in my face. We have no sense of schedule here. You might; we don't yet.
Jack still nurses 237 times a day and night. He has little interest in solids beyond throwing them, putting them into his mouth and spitting them back out and only maybe considering swallowing if it's something good like cheese or pasta. Your baby might not do this; mine does.
Jack cries a lot. We do not use cry it out or any other type of situation that would leave him to cry for even one second without a response from us, but that does not stop my sensitive little guy from wailing his lungs out at some point during every day. Not all babies do this; some do. Yours might; yours might not.
I hope my honesty is not frightening. It is not meant to be. It is, in fact, our reality. I would only ask that if you are ever in the situation where you are the veteran mother that you be as honest as you can be. Try to remember back when you were a rookie mother, scared, confused and lost. Don't alienate another mother. Be honest, be kind and offer support rather than minimize her and your experiences. You have the power to make or break her sanity.
Abby Theuring, MSW