During the first 2 to 3 months of Jack's life I struggled with the contradiction of wanting to hold Jack close and all of the fancy things that I was supposed to put him in or on. He had a bassinette that we put him in when he fell asleep. Generally it took several tries to get him in there because he would wake up as soon as we set him down. "Geez, this baby hates to sleep!" So then we tried a swing, surely he would sleep better in a swing, that's what everyone said. Nope, same shit. We didn't yet know exactly how to listen to Jack. He was speaking to us, very clearly; we just weren't listening. He was communicating clearly and simply that he wanted to be close to us while he slept.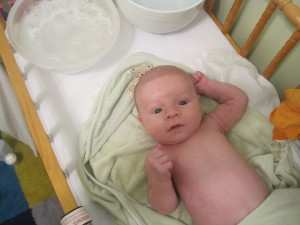 To my frustration Jack also fussed when we bathed him. We would put him on his changing table, take his clothes off, hold a towel over the part we weren't scrubbing and work our way down his body. I would wash, my husband would rinse and dance like a jester trying to keep Jack from total meltdown. Forget the fact that Jack didn't really need to be bathed this often and that he certainly didn't need to be scrubbed down as if he had been at work all day collecting the city's garbage.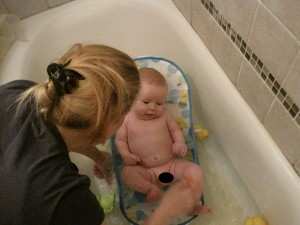 A couple of months later we felt Jack was ready to graduate to actual running water, but he was not steady enough to sit on his own. We bought a bath chair so that he could sit and we could pour water over his body parts bit by bit. That's my baby, sitting alone in the tub, while we hover around the tub and reach our arms in trying to make him comfortable while our backs were breaking. I felt an edit to this photo was appropriate so that he will still want to speak to me when he is 14 years old.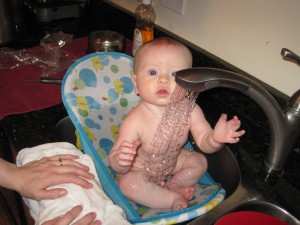 We realized that this was not ideal as our backs were sore and Jack was far away all alone in his little chair, so we decided the sink might be better. We could stand straight up in comfort. Jack could play with the water coming at him from the faucet, and it detached so that we could spray his body with water easily. This happened one time. The second time Jack screamed in horror at the water spraying in his face. It seemed he found this frightening. Not the first time, but the second and third time so we called it quits.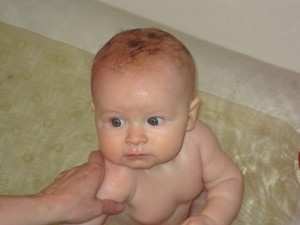 Jack was being so unreasonable. We had moved this bath situation all over the house and he hated every bit of it. He clearly thought I was a bad mother and did not feel the least bit shy about telling me this! He was getting a little older and steady so we decided to just put him in the big bath again with no chair. We piled a bunch of toys in and he sat on his butt with me holding his arm to make sure he didn't slip. He didn't seem to mind this too much but the water freaked him out sometimes, and I was developing a hunchback from leaning practically completely over into the bath tub for fear he would slip around.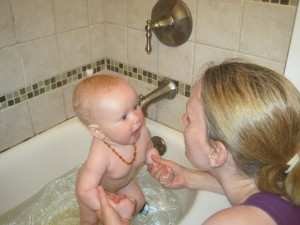 Then he learned how to stand. And from then on the only parts of his body getting a bath were his feet and shins. He wanted to stand every waking moment, and most of his moments were waking ones. As soon as his butt hit the bottom of the tub he would pull himself up and play with the faucet. That little knob to turn on the shower was his most prized possession. Or he would turn to me, grab my hands a do a little dance. This was not working out. Why in hell was everything always wrong? Everything I tried failed. Not just with bathing, but sleeping too as I said before, and breastfeeding, and babywearing, and mealtime. Nothing worked!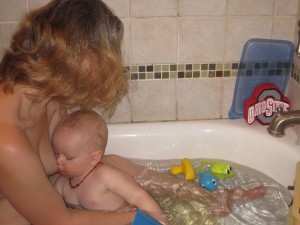 But just as we had found our groove with all of those things we found our groove with bath time. I had tried bathing with him before, but it seemed to be too hard. I would get out to dry off, but then he was still there sitting by himself in the tub—too dangerous! I tried to get out with him and get him dried off and dressed first, but this always left me running around naked, wet and freezing. So I figured it just wouldn't work. I had fixed so many problems before by learning to listen to Jack. Maybe Jack could fix this one for us too. In all of those other situations the answer was the same, Jack wanted to be close to me. I thought about what went wrong before and the problem was always surrounded around how to get myself dry and fixed up. Jack doesn't care about my hygiene routine. He cares about going from one moment to the next feeling safe, close, nurtured and loved. It all fell smoothly into place when one night I hopped into the bath, my husband handed me Jack, we bathed and played and nursed and laughed until Jack was ready to get out. My husband took Jack, dried him off and put on his jammies. Perfect! And now I get to dawdle in the bath tub, blasting it with scalding hot water just like I love it and spend a few minutes relaxing. Win win.
Abby Theuring, MSW