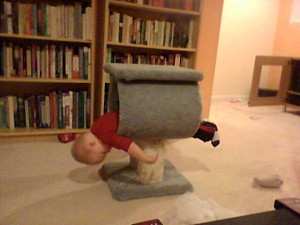 I once posted this photo of Jack playing on a cat scratcher in front of our book shelves and someone commented that it is a miracle that the books are still on the shelf. I wanted to share what we did to make that happen. I used to try to stop him. After all these are the books we have been collecting forever! They have always been perfectly lined on the shelves and in carefully thought out categories.
The more I tried to stop Jack from touching the books the more he wanted to touch them. So I decided to move the expensive books to the top shelves and the cheaper books to the bottom shelves and let him have it. I decided to shift my focus from the books to Jack. Instead of worrying about what he was touching I watched him. I learned about him. I learned how he learns. I learned what he likes. I learned about his laugh and his smile and his funny mannerisms. He tore the books off the shelves every day for a long time. I brought my coffee with me and relaxed next to him. This became more quality time together. I didn't make a big fuss out of it. Eventually the novelty wore off. He now never even looks at them. This photo was taken at 18 months. He is now 25 months. I can't remember the last time he even looked in the direction of the bookshelves. Maybe he "got it out of his system."
I let him explore the world around him. I let him experience what it was like to touch the books, to hold them, to pull them off the shelf, to feel them land on the floor. I had to pick up books for a while and I had to remember to embrace the chaos of my new life, but I didn't have to battle with him and now he doesn't care about the books. I feel like our relationship is better for it. There are some tears in the books, but in general they are not damaged. The books don't mean much to me anymore, but Jack and his world mean everything to me. This method works for basically anything that he can't hurt himself with.
Just an idea from me to you!
Abby Theuring, MSW