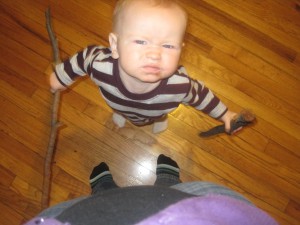 Jack is 15 months now. He no longer nurses for hours at a time. I no longer get stuck underneath him when he dozes off into a boobie nap—husband at work, water and food just out of reach, full bladder and a determination not to wake up the baby. He is mobile and able to express his wants and needs better than ever. He even walks up to me and tugs on my shirt when he wants to nurse. There is still a ton of guessing in this game since I can't always figure out what is wrong when he is crying, but we have definitely gotten into a routine.
So why am I so touched-out sometimes!? Jack is able to do so many more things than when he was a baby, but now he can follow me around, tug on my pants, whine endlessly, stand right behind me so I am sure to knock him over, stand right in front of me reaching up while screaming, pull, twist, scratch my nipples, demand that both boobs are out while nursing and bounce back and forth from one to the other like a game of tennis. Most of the time we have a ton of fun, but there are some days when it seems that everything on the above list is occurring at the same time and going on all day.
My husband tries to intervene. Sometimes this helps and Jack will play with him. Other times Jack screams bloody murder as soon as I turn slightly away from him to sit down. I end up taking him back and the scenario repeats itself. I love being close to Jack, but like all mothers I am overcome with the desire to have no one touch me for a few minutes. Just a few minutes of no one talking to me, needing something, just be quiet! I usually have to take this out on my husband because I can't push Jack away. I don't want to push Jack away. I want to swallow my feelings and let them out in another way so that Jack feels only love, warmth and acceptance from me. My husband takes it like a champ because he can see my frustration. He always tries to make it better.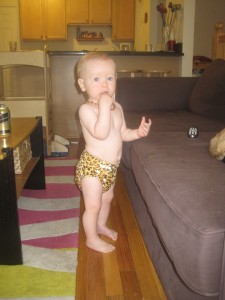 I have fantasies where I lock Jack in his room and go to the bathroom by myself or where I shove Jack away from me. I hate myself when I think of these things. I feel guilty. I don't actually want to do these things, but I can feel the rage growing in the pit of my stomach and I just want to lash out. I resort to loving talk, not to Jack or my husband, but to myself. You are a good mother, you are doing your best, it's OK to have these feelings, this is normal, you can get through it, and so forth. I always do get through it. That is another important thing to remember: I always get through it.
The other night I fought through all of my fatigue to have sex with my husband. "Ugh," I said. "Oh, all right." We are trying to conceive again, I was pretty sure I was ovulating and we took advantage of Jack having gone to bed early. When we were done I lay on the couch to encourage the little guys to swim to the egg. Not 3 minutes later: Jack is awake. I run into nurse him in hopes that he will go back to sleep. I am holding tissue between my legs to keep from dripping my husband's fluids all over the floor. Jack nurses for a bit and then pops his head up and crawls off the bed. Ok, so you're awake! Then Jack's sliding off the mattress onto the floor, but in a goofy haphazard manner. I am trying to keep him from bumping his head and trying catch the tissue now falling to ground from my hoo ha. "Can I get some fucking help in here!?" I yell to my husband. He comes in and grabs Jack. I was so irritated. I had a few minutes to myself, but instead I decided to spend it with my husband and the next thing I know Jack is up again likely until the wee hours of the morning.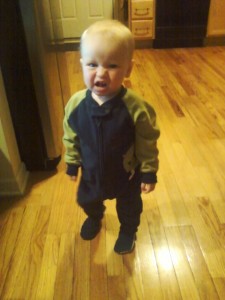 Sometimes I feel like everyone is getting something but me. These things I am giving are emotional, but they are also physical. I am constantly sharing my body with someone. My breasts, my vagina, my arms, my legs, my face, my hair. Everyone wants a piece of me. I feel backed into a corner like in a horror movie with zombies coming at me. "Stay back! Get away from me!!" The zombies stagger toward me, one big and one small, both reaching their arms out to grab on and take control of my body away from me. I scream at the top of my lungs and the grabbing and pinching and sucking and prodding and scratching and twisting and pulling begins.
And again just before I wrote this Jack was whining and following me around. Crying when I move, crying when my husband moves. My husband says, "Why do we have the unhappiest baby on the block?" I don't fucking know, but I have to go to the bathroom. Jack follows me crying. I pick him up to nurse him on the toilet; I'll do anything to make him feel better. He doesn't stop crying. My husband comes in to help. "Are you going to the bathroom?" Ummm, I'm sitting on the toilet with my pants down around my ankles, "I'm trying!!!!"
Abby Theuring, MSW