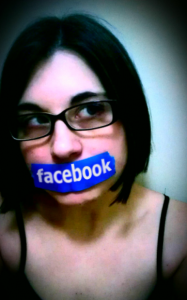 Mothers unable to receive vital breastfeeding information, support from doctors, lactation consultants and educators.
I am well acquainted with Facebook's misogynistic views on breastfeeding and the female breast. I have been banned from the popular social media site numerous times over breastfeeding pictures, links, and even pictures of things in nature that kind of look like a breast or nipple!
As I type this, I am 17 days into a 30 day ban from a link posted on the Facebook page of a national breastfeeding organization I volunteer with. When a link is posted on Facebook, a preview with the title and an associated image is shown. The link that led to my current ban featured a thumbnail image of an African-American mother using an at-the-breast supplementer to feed her adopted child.
Facebook has said "We have long allowed…educational and scientific photos of the human body and photos of women breastfeeding," after receiving backlash over the deletion of mastectomy photos off the social media site, in June of 2013.
An article about adoptive breastfeeding is educational. Photos included in such articles are extremely important as tools and techniques are being discussed. Breastfeeding is a skill that is best learned visually and parents need access to these images.
Despite what Facebook has said, they are just paying lip service as they obviously do not allow such educational and scientific photos.
Anne Smith, the IBCLC behind the Breastfeeding Basics page, had multiple breastfeeding photos deleted off her original Facebook page, including a picture a mother requested of a breast with mastitis. Ultimately, the bans resulted in her losing her personal account and professional Facebook page.
Dr. Jack Newman, a widely respected Canadian physician specializing in breastfeeding support and advocacy, was banned for 24 hours in July of 2013 for posting an educational photo of a breast with an inverted nipple. He posted on his Facebook page:
"This apparently violated Facebook's "community standards" which is odd, because 90% or more of people coming to this site are women, most of whom have breastfed their babies and don't find the sight of a breast provocative. In fact, this photo was there for a very legitimate reason, to show all those who wondered about latching babies on to "inverted" or "flat nipples" that this type of nipple should not be an indication to use a nipple shield and was in no way erotic or puerile in intent."
Closed educational groups on Facebook are also not safe from deletions as was found in August of 2013 when Emma Kwasnica received a 7 ban after sharing her birth photos in a group on breastfeeding and birth. Jodine Chase, in her article about photo deletions off Facebook, said this about Emma's pictures:
"The photos document normal physiological birth, something many women never get to experience or even see in our medicalized birthing world, and Emma shared them for this reason."
The common saying among breastfeeding advocates and professionals is to "meet mothers where they are at," and with new moms flocking to social media for support, Facebook provides an excellent platform for providing breastfeeding education. Mothers of young children are "more than twice as likely as the general population to visit social networking sites three or more times per day" and are "twice as likely as the general population to post or comment on social networking websites". Many advocates and professionals have started Facebook pages and groups to provide places for these mothers to have access to evidence-based information. Unfortunately, fear of being banned from Facebook is causing some advocates and professionals to refrain from posting important information and has caused some advocates to leave Facebook completely after numerous picture deletions and bans.
Jodine Chase, who is reviewing information from a not-yet-published survey done by the Facebook vs. Breastfeeding Alliance last fall, says:
"Most people who describe themselves as advocates or educators, including medical professionals like physicians and lactation consultants, are concerned about a possible ban on their account or the loss of their page or other privileges. Just over 1 in 10 breastfeeding educators and advocates have actually had breastfeeding images removed. About 1 in 6 have edited or censored photos before sharing. A similar number do not share breastfeeding photos at all because they are worried about a ban or losing their account."
Breastfeeding Basic's Anne Smith, IBCLC, shares her disappointment with Facebook's policies:
"As an IBCLC and health professional, I am being denied the opportunity to inform and educate breastfeeding moms via Facebook. I can't post pix of what IBC (Inflammatory Breast Cancer) looks like, compared to mastitis, in spite of the fact that it might save the life of one of the 1,000,000,000 members of Facebook."
Dr. Jack Newman has also made references to his frustration of not being able to post proper information on Facebook:
"Concern of being permanently banned from Facebook prevents me from putting up a video showing a baby pulling and being unhappy at the breast…Go to our website and you can find it."
Another time, Newman had to edit a post out of fear of being banned from Facebook:
"I deleted the photo because I was previously threatened with permanent banning from facebook because of a photo of a breast (horrors)."
Lara Audelo, CLEC, author of the book, The Virtual Breastfeeding Culture: Seeking Mother-to-Mother Support in the Digital Age, understands the importance of Facebook as a support system for breastfeeding mothers:
"It is rather unfortunate this keeps occurring as because the minds behind Facebook know better than anyone how their demographics breakdown and how they can maximize their financial relationship with each of these groups. Women of childbearing age who use Facebook as a means of breastfeeding and mothering support do so for very important reasons and their online support relationships have great value, often producing tangible results with respect to their breastfeeding challenges. I'm not sure what it will take for Facebook to let up on mothers but I do know that as long as women are having babies and using social media they will continue to fight for their rights to support one another on this platform."
Despite Facebook's claims of supporting the sharing of breastfeeding pictures and educational and scientific photos of the human body, it is clear that's far from the truth. Facebook' is failing to follow their own policies and statements. Ultimately, this is hurting parents. As discussed above, new mothers use social media to find support, but Facebook is putting up a barrier—censoring important breastfeeding information and causing educators to fear sanctions.
Jodine Chase suggests the best solution:
"[We need to]…call on Facebook to an update to its Community Guidelines clarifying its intent to make education and scientific photos of the human body exempt from its Nudity and Pornography clause…"