Ask Anne…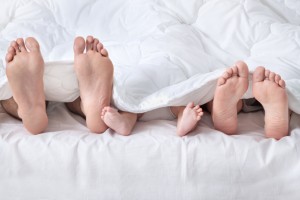 Question: My daughter turned one on Mother's Day, but she is still not sleeping through the night. She will wake to nurse and then go right back to sleep. Is it normal for her to need to nurse or is it more of a comfort thing for her? I don't mind her nursing at night, whether for comfort or need, since she rarely nurses during the day anymore. I am just wondering when she'll finally start sleeping through the night. 
Answer: There are lots of babies (both breast and bottle-fed) who continue to wake during the night well into the second or even third year. Sleeping patterns vary widely among individual babies, just as they do among adults. Everyone knows that some people require seven or eight hours sleep in order to function effectively the next day, while others do just fine with five or six hours. Some adults are light sleepers, some are deep. Some sleep better curled up spoon-like next to their partner, while others gravitate to the far side of the bed because they need their own space. Why do we accept these differences in adults, and yet expect babies to start sleeping through the night be a certain age?
Sleep "problems " are a hot topic. There are dozens of books and hundreds of magazine articles on how to get your baby to sleep longer. In our culture, a "good" baby is defined as one who sleeps a lot and demands as little attention as possible. If you define sleep problems the way many experts do, then almost all babies have some sort of sleep problem.
Since you seem to be comfortable with the nighttime nursing arrangement you have now, then I would continue nursing her back to sleep at night until she outgrows the need. It sounds like she is already well on the way toward weaning since she has cut back so much on daytime feedings. She will continue to get the nutritional benefits of the milk she receives during those short feedings, as well as the security of knowing that you are there to meet her needs during the night as well as during the day. Before you know it, she will be an independent little person who sleeps through the night in her own bed and climbs in your bed occasionally just to snuggle. Enjoy the special closeness of these nighttime nursings while they last, because before you know it, they will just be a fond memory.
Anne Smith, IBCLC
Breastfeeding Basics
Last Modified
December 3, 2015